GETandGIVE is back!!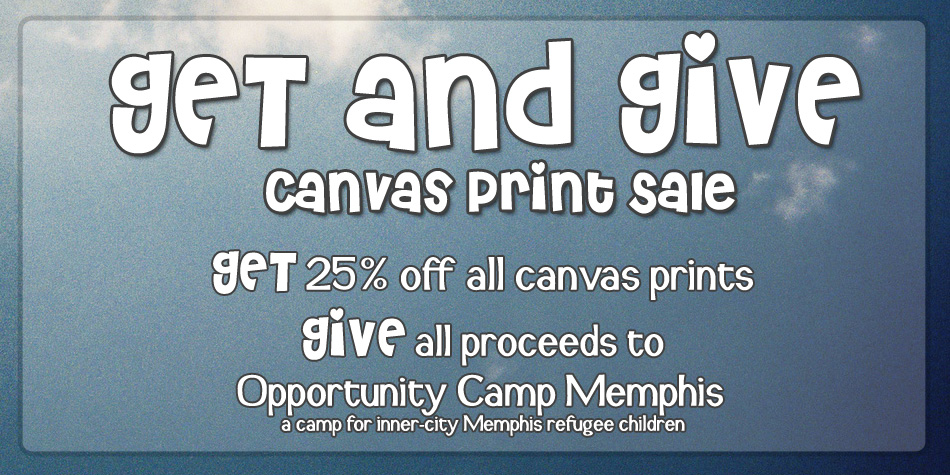 Image above by Anna, an Opportunity Camp Memphis photography student

A little over a year ago, the amydale photography family gave over $500 to LeBonheur Children's Medical Center through a simple event called, GETandGIVE.
As I thought about all the many wonderful charities & organizations to sponsor in this year's GETandGIVE, I couldn't let go of the one that is closest to my heart.
This year ALL the proceeds (that means I keep NOTHING) go to Opportunity Camp Memphis!
The money collected will help take care of the children's clothing, food, stay at the camp, and go towards any other supplies the children may need.

Opportunity Camp Memphis has been held every year for the last 35+ years to serve inner-city Memphis refugee children.
All the children and their families have been relocated to Memphis, TN from war and poverty-stricken countries from all over the world.
–>Did you know Memphis is one of the TOP cities in the world for refugees to be relocated to??
They meet the physical needs of the children by supplying clothing, bedding, food, and hygiene supplies.
They also meet education needs by enriching English learning through art, music, crafts, games, and Bible study.
But perhaps, most importantly, the children are loved throughout the week by amazing volunteers that give up a week of their lives to encourage these children.

I have been involved with Opportunity Camp for 15 years now and it has changed my life. (See last year's post.)
To see the transformation in each child's life as they gain confidence in the language, culture, and themselves is incredible!
I hope you'll find an image or two or three or four that you'd like to GETandGIVE to support these amazing kids! :)





WHAT TO DO…
1. For clients of mine, choose any image from a session you've had with me (engagement, wedding, bridal, family, love, or senior) and choose your canvas size.
2. If you are not a client of mine, you may make a donation or contact me about a special GETandGIVE print for purchase.


Use the 25% off on either Gallery Wrap Canvas Prints or Flat Canvas Prints.
When you order a Flat Canvas you will receive a gift of $30 off custom framing from Midtown Framer.
(Clients, please note: Product credit cannot be used towards GETandGIVE purchase.)


All orders must be received by 10:00pm on Thursday, May 26, 2011 to qualify for GETandGIVE participation and discount.